Hello Archbangers!
I need your help please, I am trying to install cairo-compmgr  via AUR or Tarball,  but keep getting this message see image below: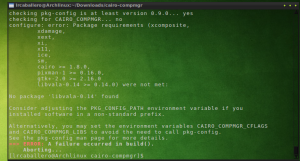 "No package libvala-0.14.0 found", I can't seem to find such package! am I missing something here? I googled but in vane! I couldn't find a solution to fix problem...
vala>=0.16.0, gconf, gtk2, libsm are installed!
Any help or guidance is highly appreciated.
Cairo-Compmgr has been updated by maintainer cgirard, you may install via Tarball or Packer!
Cheers and Enjoy!
lrcaballero
Last edited by lrcaballero (2012-05-02 21:23:49)